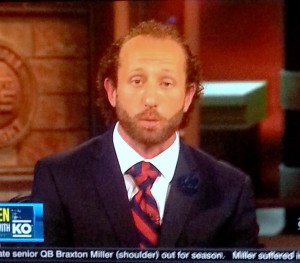 What kind of knot is @dallasbraden209 rocking on Olbermann? #tiegame

— Anthony Armstrong (@MrArmstrong13) August 20, 2014
@DALLASBRADEN209 whats the deal with your tie on backwards? #Espn pic.twitter.com/aXFlBgGuVr

— Miguel Penaloza (@Migs49) August 20, 2014
The short answer is no. Aside from looking like Kleinfeld from "Carlito's Way," I'm really not sure what to make of Dallas Braden's entire look, get up, anything. His blue flower thing on his lapel, the male pattern baldness combined with a very kosher, soul glow perm job, he's literally all over the place. Not to mention the fact he's come out of nowhere to be a qualified studio analyst (2 years MLB service, with one perfect game and one argument with A-Rod withstanding), the one thing I can confirm is that he did not in fact invent this look.
NO ONE can pull off a trinity knot with a Repp tie. Credit to Dallas Braden for trying, but it's a #SartorialFail. pic.twitter.com/8ylJnjjnhK

— Matt Dorsey (@mattdorsey) August 20, 2014
Yes the often unseen "trinity tie" is actually not really that whimsical at all. Through Google I found out it's just a different knot but not for formal occasions. There's no story behind it other than it was originated by my Celtic forefathers who were probably pretty drunk trying to tie a tie the Windsor knot and wound up doing it  this way, called it a sign from God then went to the pub and got shithoused. If you want to know how to do it, here's the video, but more importantly, it's help me put Dallas on notice.
Hey @DALLASBRADEN209, I think I nailed your look, bruh. pic.twitter.com/UMSAqjtGFP

— Saint Brendan (@SaintBrendan) August 20, 2014
Follow me @SaintBrendan and tweet @KFCradio or @DallasBraden209 your Trinity knots.