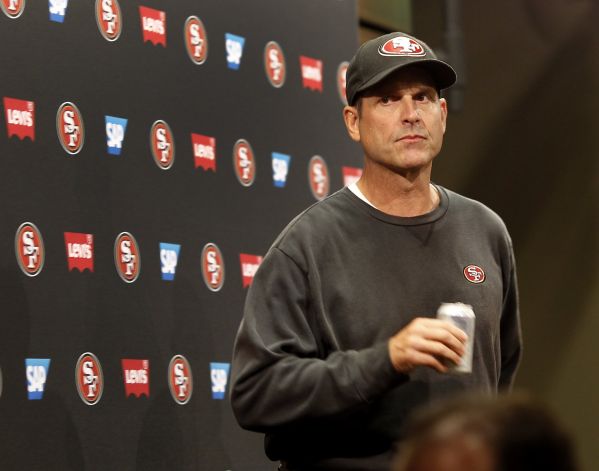 SANTA CLARA — If there is growing discontent among the 49ers players toward Jim Harbaugh, they have yet to express it to the head coach.
"Personally, I think that's a bunch of crap," Harbaugh said Monday after two NFL Networkreports that quoted unnamed sources that the players have grown tired of him.
Harbaugh, who has an open-door policy for any player or staff member to voice complaints or suggestions, said he has not heard from any player about any dissatisfaction, he said.
On Sunday night, NFL Network analyst Deion Sanders said there are players who want Harbaugh out as coach. Earlier, another NFL Network report stated that players were not happy. And, on Monday, ESPN analyst Trent Dilfer described the 49ers' atmosphere as "almost toxic" in a radio interview.
"I haven't seen Trent or Deion around much," Harbaugh said.
Well Jim-boy had to be feeling pretty confident about letting those comments go after righting the ship by beating the Eagles yesterday. Not sure where we'd be on the Harbaugh explosion threat level chart if they had lost, most likely in the red area. Not seen the threat level diagram? Let me indulge you.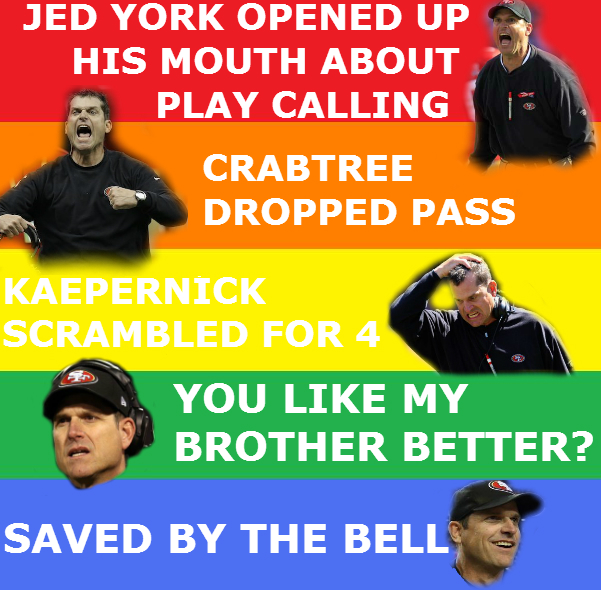 Right now I'd say we're on the edge of orange but still safely in the yellow. Had the 9ers lost on Sunday I can tell you that we would have truly been in for a world of a press conference but with the win, it makes me wonder who's been talking. Some possible ideas?
Michael Crabtree
To many that this may concern @KingCrab15 is not my source. My sources wears uniforms,suits and ties. #Truth

— DeionSanders (@DeionSanders) September 29, 2014
For this tweet alone and I can 100% see Crabtree saying this to Primetime. What other person would be smart enough to drop dime to Deion?
Colin Kaepernick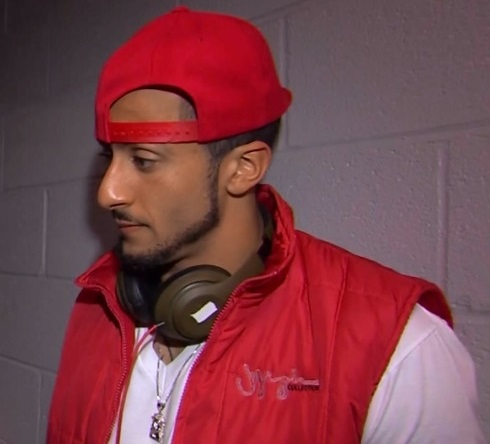 This would explain the Trent Dilfer angle (QB to QB conversation). This has some traction just because Kaepernick is locked up as a 9er for years to come and the offense isn't clicking right at all. Is it the play calling? The reads? All the above. Bonafide candidate and I wouldn't be surprised if the guy that fought for him to be QB1 is sick of his coach's schtick.
Jed York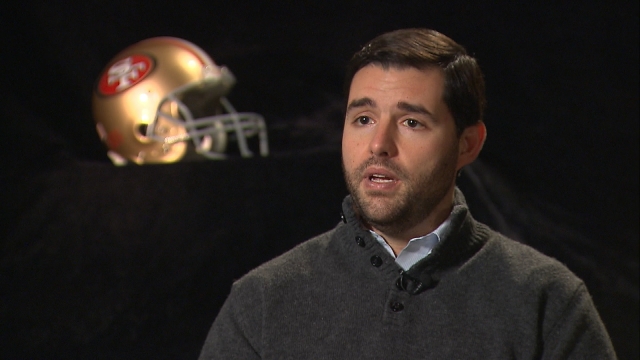 The stories about the GM of the 9ers and Harbaugh having riffs back and forth has been chronicled for some time now, however this would be the first time he'd talk out of turn about the team's business. Also, "lost the lockeroom" is such "I didn't play football" term. My guess for who's spilling the beans?
Frank Gore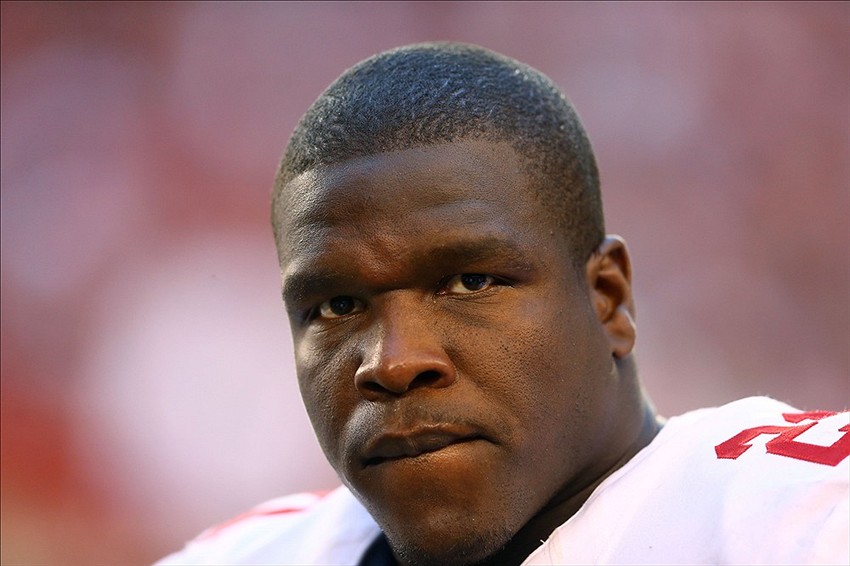 Probably a 1st ballot hall of famer, been on the team since forever, seen coaches come and go, in the twilight of his career with an opportunity to win a Superbowl slipping through his fingers and he's not being fed the ball. That's my pick. – @SaintBrendan