The show is now done via Google Plus Hangouts. To "call" in you will need:
2) The Google Video Plug-in downloaded
3) Headphones, webcam & microphone- The iPhone headphones that have the mic so you can talk on the phone work great. Most computers have a built in mic. If you can Skype, you can use Google Hangout.
4) The link to the Hangout- this is different for every show. We will share the link on the blog, twitter or facebook at some point
Google Hangout Controls IMPORTANT!!!
When you join the Hangout you will be hidden from the broadcast. Once you are added to the broadcast your mic will still be on MUTE.
You need to UN-MUTE yourself. You can do this by clicking the red mic button in the upper righthand corner. It looks like this: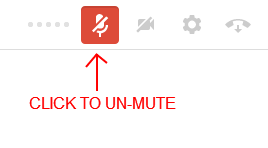 If we can't hear you, we'll move on to the next caller.