KNOW MORE PODCASTING
So every now and then I get questions about how to start a podcast. It's kind of weird because when I get to explaining it, it actually starts to sound much more complicated than it actually is. So what I've decided to do is throw down a few blog posts about how to start a podcast, how to record a podcast and how to get better at making a podcast.
I'll cover recording, editing, posting and all sorts of other stuff, but let's start at the very beginning.
How to START a podcast RIGHT NOW.
Like, this instant, right now, you can record and post a podcast. If you are reading this you are either on a computer connected to the internet or on a phone connected to the internet. That is all you actually need and it will cost you nothing.
Almost every single mobile phone has a voice recorder nowadays. Press record, start talking. When you are done, email yourself the file and post it to Soundcloud. BOOM! You have a podcast. It is literally as simple as that. If you want your podcast on iTunes and Stitcher and PodcastOne and all that good stuff, yes, it's more complicated. But the bottom line is to get your recording on the internet.
If you are sitting in front of a computer right now, you can go straight to Soundcloud. click record and you will instantaneously have something that can be considered a podcast. Here is instructions straight from Soundcloud.com
NOW…
There are plenty of ways to make your podcast a lot better. But this is a free method that you can do RIGHT NOW. So go record something. By the time you are done maybe I will think of something else to blog.
Got questions about podcasting? Email me brendan@kfcradioshow.com it will help me figure out what to actually blog about. Or twitter @BrendanClancy
THE STARTER MIC
Last time I explained to you that you don't actually need to buy any equipment to podcast. But, eventually you will want to up you game and improve the sound quality.
Here are two USB mics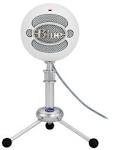 Both are USB mics that plug straight into your computer. These are great to get started. Great for a "roundtable" sort of podcast where you get a couple people together and talk about whatever.
If you want everybody to have there own mic though, you'll probably need a mixer.
Got questions about podcasting? Email me brendan@kfcradioshow.com it will help me figure out what to actually blog about. Or twitter @BrendanClancy
THE STARTER MIC
Been meaning to blog more about the equipment we use since a lot of people have been asking. So here is basically all of it. THere are alternatives to all of this stuff. Some cheaper options, some higher-quailty options. This is the stuff we use to record #MAILTIME since KFC Radio is basically just through webcams.

Behringer Xenyx Q1202 USB Mixer
Oooooh! Fancy! I was so pumped to buy this just because it look legit. Looks like something a pro would use and it looks more expensive than it is. Mics go in, recording comes out. It's magic!
Behringer ULTRAVOICE XM1800S Dynamic Cardioid Vocal Microphones, 3-Pack
Cheap-ass mics. I know our sound quality isn;t always perfect but that is more user error than anything else. I personally don;t think you need to break the bank on mics if all you are doing is talking into them. But…


Heil PR-40 Dynamic Studio Recording Microphone
…if you wanna be a baller. We don't. We don't use this because you don;t buy enough NatureBox or sign up for the PremeTeam enough. It's your fault.
Behringer HPS3000 Studio Headphones
Cheap headphones! Notice a theme. This is an area where you may consider upgrading because these will make you head bleed. Not because of the sound quality, that's fine. They physically attack your cranium after about 15 mins of wearing.
BEHRINGER MICROAMP HA400
Splits to multiple sets of headphones.

RODE PSA1 Swivel Mount Studio Microphone Boom Arm
Don't need these and you can find for cheaper, but nice to have so you don't have to hold mic or sit up on it the whole time.
Roland R-05 Studio WAVE/MP3 Recorder
If you record directly to computer via USB (make sure you get the USB version of mixer, you won't need this. I think it's critical because I don;t trust software to not crash in the middle of recording.
BlueRigger 3.5mm to RCA (2) Stereo Audio Cable (8 Feet, White)
RCA cables come out of mixer and to recorder.
Your Cable Store XLR 3 Pin Microphone Cable (6 feet)
Goes from Mic to Mixer. The mics should come with at least one of these but check to make sure.
Think that's it. With that stuff you will be able to record something as mediocre as #MAILTIME. If I think of other things I will update. If there are typos in this post There are definitely typos in this post. Sorry but not actually sorry. If you have questions hit me up on tiwtter @BrendanClancy