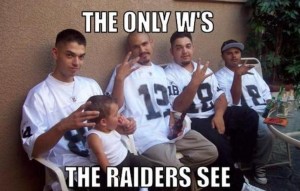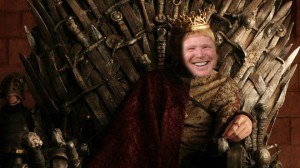 ESPN – It pays to be a member of the Oakland Raiders — but only if the pay is extraordinary.
The Raiders are the least desirable team to play for in the NFL, according to an NFL Nation Confidential survey posed to 100-plus players on the following question:
"The only way I'd play for [team name] is if they doubled my salary." 
Of the 82 players who answered, 23 percent named the Raiders, followed by the Buffalo Bills (19 percent), Cleveland Browns (16 percent), Jacksonville Jaguars (9 percent) and Green Bay Packers (6 percent). These are tough times for the Raiders, who have endured 11 consecutive nonwinning seasons and last reached the postseason in 2002 — the season the Tampa Bay Buccaneers routed them in the Super Bowl.
Evidently there's not as much love as they believe. One opposing player, speaking on the condition of anonymity, said the survey was dead-on. Alluding to the Raiders' reputation for overpaying aging veterans, the player said of the survey result: "It's true. They've got a bunch of players who got double their salary."
Ahhhhh the Rrrrrrrrraiders, currently going through the Kathy Geiss state of ownership both figuratively and visually speaking, are a mess. As soon as the old man started to go you knew it was all over. Raider fans have been in need of leadership since Gruden came back and spanked them in the Superbowl, which was a damn near 13 years ago aka an NFL lifetime. Not only that, they haven't even made the playoffs since losing that Superbowl and thus the revolving door of coaches as well as the eventual death of Al Davis have been the persistent story ever since. Now the Raiders have this guy:
Yes, this Bucky Larson look a like is Al's son Mark for those who don't know and since he's taken over the team, he's run it like the girl in your office who badly wanted to play in your fantasy football league. Better yet, it'd be like having your mom do franchise mode on Madden. Hell, I would not put it past Mark Davis to make team decisions with a magic 8 ball or go into a secret room in his house where he keeps Al's corpse, Errol Childress style, to ask questions to his father's dead body.
More importantly, he's the boss and the biggest fanboy, so dabbling in mediocrity is not a huge deal as long as he's the boss. The team will continue to be constrained by potential free agents by having a shitty stadium in a shitty part of town and signing free agents that A) Have no other places to really go and B) Get the Raiders to overpay and thus constraining the cap for talent. Furthermore Raiders talents are a mirage with the case in point being Nnamdi Asomugha: He was known as a shutdown corner which is pretty easy when all you have to do to complete a pass is not throw towards his side because the other corners are garbage. Hell, even Nnamdi Asomugha proved to be garbage after leaving, with his only big pick being Kerri Washington.
So if I was a Raiders fan, I'd be praying that Mark Davis says racist towards Mexicans, Blacks or the LGBT community because that is the only way you get this guy out.
But congrats, Raiders fans….you have the best song in football and everyone is worried you'll stab them. No one can take that away from you.