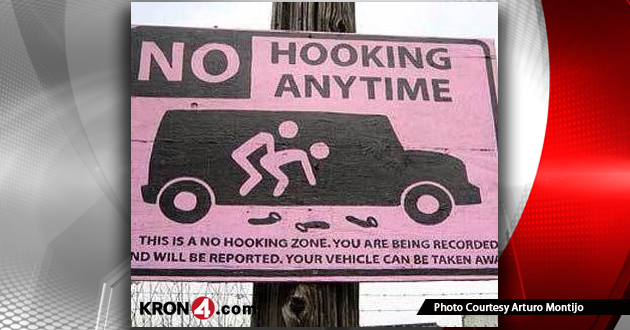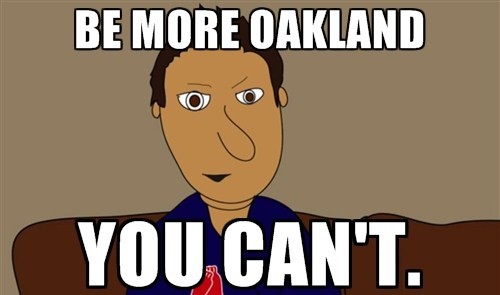 OAKLAND (KRON) — "Why are there only 3 socks under the car?," asks Arturo Montijo.
The "NO HOOKING ANYTIME" sign shows drawings of two people inside the back of a van in a compromising position and what appear to be three condoms strewn on the floor. A message in the sign reads, "This is a no hooking zone. You are being recorded and will be reported. Your vehicle can be taken away."
The post has been shared several hundred times and continues to garner numerous comments.
"The condoms are almost as big as their arms!," quipped Verónica María Solís.
The sign was designed by a resident of East Oakland who has grown frustrated about the growing prostitution problem in his neighborhood. According to Stanley, couples have been seen having sex in cars along San Leandro Boulevard.
"When I was a kid it was No drug zone signs everywhere. .now this smh," said Raymond Shelba Jasper-Holt.
Not since Bubb Rubb told us the whistle tips went "woo wooo" have I seen a story and a report that more typify's Oakland more than this story. In as little as 150 words, we can already assess that Arturo Montijo is proud graduate of the Oakland School System, having incorrectly identified the condoms as socks. Next, we can tell that Verónica María Solís probably stays within her own tribe when it comes to the men in her life, but has a fine appreciation for the girth and diameter of the used prophylactics on the ground with an almost inquisitive tone that would suggest she's ready to try someone or something different.
But most important to this report is that a man named Raymond Shelba Jasper-Holt, a man who's name would suggest either that of a pissed off resident of Oakland or a Dutch impressionist,  had to take it upon himself to come up with a street sign to stop people from fucking on his street. Only in Oakland would there be so much cornholing going on in vans on the street that an enraged resident had to put up a self made sign to deter people. Not only that, but he referred it to as "hooking," who does that? And also newsflash, you're in East Oakland on San Leandro Blvd., what did you expect? In fact when you look at a Google map of the street he lines on, you can even see a van where people are probably fucking inside: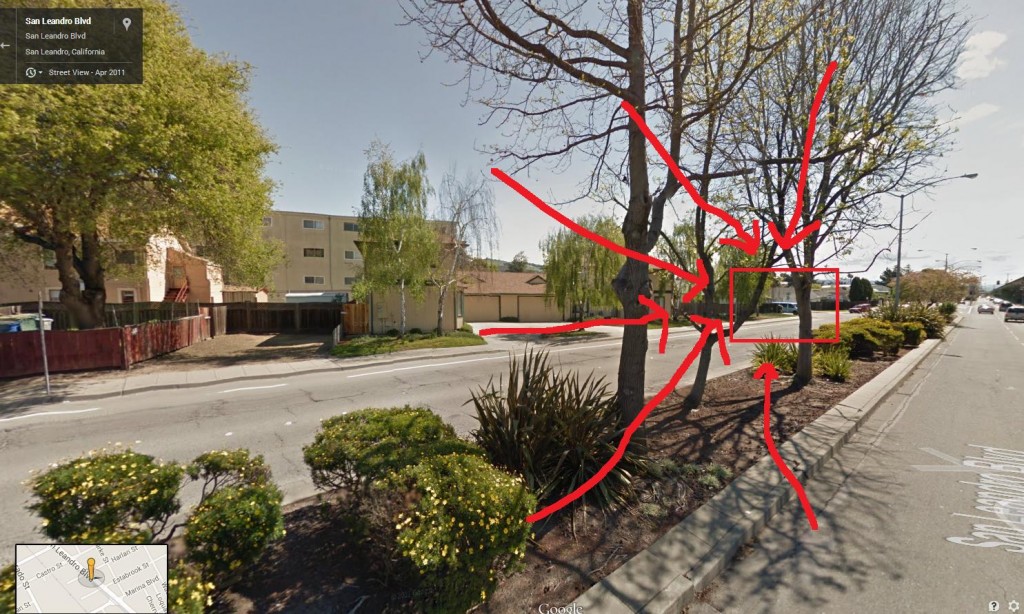 But best of all, this real life male version of the Madea in the neighborhood, was able to school the news reporter about what went on "back in his day" and end an interview with an acronym. He actually verbally texted a subset of the internet known as #BlackTwitter during a live interview. Simply stunning.
There's nothing more to say other than cue the whistle tips.