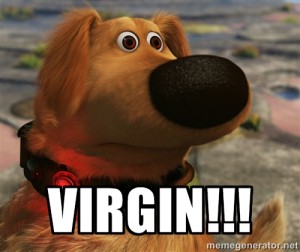 WJAC TV – Happy Valley is home to thousands of students and it's also home to thousands of bushy-tailed squirrels. No one seems to know them better than Penn State junior Mary Krupa. "My parents were worried you might bullied for making friends with the squirrels. That isn't something a normal person does but people seem to really love originality and creativity," Krupa said.
Krupa has earned the nickname the "squirrel whisperer" and it's more than just a campus title. Krupa and a female squirrel named Sneezy have become an Internet sensation.  Sneezy's Facebook page even has earned more "likes" than Penn State's mascot the Nittany Lion. One German magazine even wrote that Sneezy was the Penn State mascot. "They got a little confused. They think Sneezy is the school's mascot," Krupa said.
What makes Sneezy so special is that she allows Krupa to dress her up. Photos can be seen on Facebook of teeny-tiny hats made out of paper resting on Sneezy's heard.  Or shades made from cardboard while Sneezy's bitty paws grip onto doll-sized props.  So what's Krupa's photo session secret? "As long as she has food she is completely relaxed and really comfortable with people.  She is just the sweetest, laid back squirrel ever," Krupa said. 
Ohhhh, Mary. I can feel not only my skin crawl, but also your dad's when you say "She is just the sweetest, laid back squirrel ever!" When your parents are actively worried about you getting bullied after high school, you may be doing something outside the normal scope of human behavior. Hell, she's been putting pictures like this up FOR TWO YEARS:
I have been to State College, PA and all those kids do is drink, party, have the sex and watch Penn State football.Then you have Mary here going on two years now spending that time in the quad feeding a goddamn squirrel. What an IDIOT. Seriously, if I'm her parents and am paying anything more than in-state tuition, I am probably asking for a refund if she isn't getting top grades. I mean these outfits are very thought out and specific, does she go from her dorm to class to Michael's and then the quad? I really hope you are some sort of vet sciences major or something because this shit is not healthy if you are anything else like an English major because you're basically going to turn into Barry from Dinner from Schmucks. – @SaintBrendan
P.S. Can't wait for when the Sneezy dies and she tries to pull this with another squirrel. Bite city.
P.P.S. There's at least three guys on campus right now trying to hook up with "the squirrel chick" just for the story.
P.P.P.S.