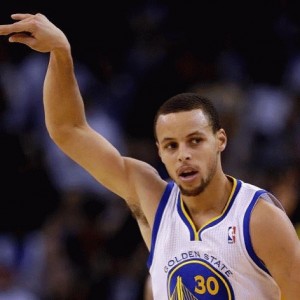 (For those who don't wanna watch the video, his top 5 current shooters are: Steph Curry, Kyle Korver, Klay Thompson, Ray Allen and Steve Novak. All time: Steph Curry, Dell Curry, Steve Kerr, Reggie Miller and Ray Allen) 
First and foremost, LOVE that Steph put himself on both lists. Curry being in the top 5 is undisputed and at this pace with the way his career is going, he will be a top 5 shooter of all time. The rest of the two lists however is abysmal. Let's start with the current top 5…notice anyone missing?
How about MVP's A and 1A cracking the top 5? Remember this is shooters, not 3 point shooters and if that's the case, you can't not have the two best players in the league on the top 5. Klay Thompson I got no problem. Ray Allen still has a great shot but he's old (but deserving on the all time), you could make arguments for Damian Lillard, Russel Westbrook, Carmelo, hell even Paul Pierce or Kobe…..but Steve fucking Novak?
Being the best shooter in the league means when you pass it to them at the last second, you've got more than hope, you have faith that he'll make it. Clean it up, Steph. It's about opportunity and Steve Novak has the opposite of opportunity when it comes to playing and shooting. That'd be like saying Brian Scalabrine is the best 3 point shooter in NBA playoff history (.463% but that's well less than 100 shots). He'll it's like saying Goldberg is one of the greatest goal scorers of all time
Plus putting your Dad and Steve Kerr in there instead of Bird or Jordan? Cmon man. I wanna like you.
P.S. Any mention of the White Mamba = must post opportunity of the Scal highlight reel