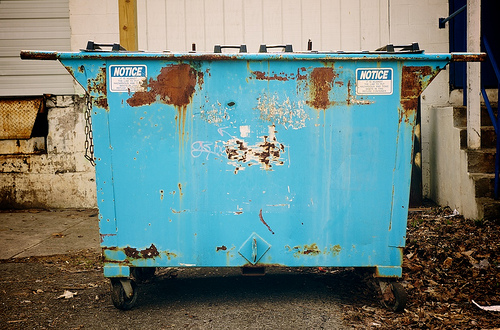 (Apparently this is in fact the dumpster in question)
SFWeekly – At about 6:57 a.m. on Monday, two adults were found on the 200 block of 14th Avenue stripped down naked in a city dumpster having "intimate relations" amid a heap of trash.  Afterward, the sexually charged pair had a smoke in the dumpster, near flammable items, a witness told police. 
The caller complained about the indecency, thus police responded only to find that the naked male had narcotics paraphernalia on him, according to police reports.

"As the officers continued their investigation they were able to recover a large quantity of methamphetamine along with other items," says Captain Simon Silverman. The man was booked into San Francisco County Jail for multiple charges, including probation violation. 
You never know where you'll be or who you'll see when cupid's arrow strikes. For some it's on Tinder, others at the bar or house party, maybe in the produce section of Whole Foods but in this case it was in the back alley of the Richmond district inside a dumpster. And what that tells us is that love is fleeting, you need to seize your chance when you have the opportunity the chance no matter the location. Hell, I remember in college a guy from my dorm got bagged going to pleasuretown outside the junior formal with his date behind a dumpster, so the dumpster isn't even a homeless/meth thing, it's a love thing. Just a shelter to literally encapsulate the fire that burns when the H is O.
We should all take a note from this unnamed man for seizing this love, taking the leap of faith of saying I want to be with you, right here right now. I remember last New Year's Eve at huge party in a warehouse in SF, I saw the it girl from high school I went out with for two weeks back in the day. A scenario I played through in my head over and over for the better half of a decade of what I would say, what I would do. You know what I ended up doing? I said hello, it was nice to see her, then abruptly ended the conversation on my own terms. I would end up getting emotional white girl drunk and leave with some Asian chick before midnight, not even getting to see Moby perform. Now she's engaged and that window has closed. So when the H is O, take the leap of faith even if it's into a dumpster because that might be the only shot you get. Now excuse me while I go listen to The Cure. – @SaintBrendan