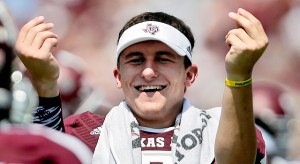 Training camps are beginning all over the country this week, with players like Josh Gordon and Justin Blackmon already flaming out of next season and the league before a snap even happens. Some, such as 49ers NaVorro Bowman are placed on the PUP list from devastating injuries the season prior while others like Redskins Jason Hatcher is on there because he's fatass and out of shape. Either way, football is around the corner.
Johnny Football has been on ESPN for basically the last couple years and the expectation is heaped that he's going to be incredible or an incredible bust, so I ask, would you want his signing bonus ($4.3 million) tax free, no questions asked just for being joe blow reading this blog or would you rather be Johnny Manziel 
next year.
Everything's great for Johnny Manziel right now because he hasn't had to do anything yet. It's like that line from Entourage, 
"Everyone wants to kill the king. But the prince, he just sails along telling all the ladies, "One day I'm gonna be king." 
Now you can hate me for quoting Entourage, I already hate myself for it, but it's a telling point with Johnny Football:  he's the backup, he's got the potential, he doesn't have to win right this second but he isn't QB1. He's partying with napalm explosion level hotties, hanging with Drake and LeBron and avoiding Pres like the Drug Kingpin in French Connection subway scene. He could be the next Steve Young but he doesn't have to do it yet.
But look at what happened on Draft Night this year, he fell and the swirling suspicion of his talent being a mirage was illuminated for about 20 picks. Look how quickly Tebow flamed out after he was Faithballed out of the league, nobody hears a peep from him. What happens if Hoyer goes down (or sucks) and three games in JFF is the QB and he gets pummeled by D's across the league that have waited years to rip him to shreds, he could legit die on the field from the hits. Or he might just suck and if that happens, Cleveland is going to be a real lonely place especially LeBron is only on the books with the Cavs for two years. At least 
he'll have Dante the Don
. He'd become the punch line of the league for years to come if he sucks and would be under a Hubble telescope sized microscope all off season to actually play well next season and save his season. You think sliding a dozen or so picks is rough, try being a false savior.
Then again, he could be really good.
So if you had the chance, would you just take his $4.3m signing bonus and keep being yourself or do you roll the dice and decide to change places with Johnny Football on 
July 25th, 2015
?
Gimme the money and unpaid blogging.
---
This brilliant blog was once again brought to you by West-Coast-But-Actually-From-the-East-Coast-Stoolie @SaintBrendan check out his blog he presumptuously titled San Jose Barstool. Love this kid's confidence.
You guys like this guy? Let me know on twitter or Reddit.